Human resources (HR) plays a crucial role in the success of all businesses regardless of size. Without HR, a business would not function properly when it comes to managing the most important asset in the company – its workforce.
Does your business's HR solution involve a dedicated team of people just managing spreadsheets and paperwork stashed in a filing cabinet? Such manual processes might have worked before, but it will quickly become a time-consuming ordeal when your business grows. It will take up valuable time for your employees, just to complete administrative tasks that bring little to no value to your company's growth.
In fact, it was reported by FOX Business that SME owners wasted more than four billion hours during work each year just for administrative tasks. And it was reported that at least 40% of these employees experienced a decrease in motivation and passion at work.
Which brings us to the game changer: HR mobile apps. A good HR mobile app will help you to keep everything organised and handle common HR tasks like recordkeeping, attendance check-ins, performance management, and so much more.
This is an investment that will save you an insurmountable amount of time and costs in the long run. It's time for you to adapt and grow instead of being left behind with old processes that might not work anymore.
Now that you've learned the importance of shifting to a mobile HR system – how will you determine if an app is suitable for your business? In this article, we'll cover the key features to look for and find the best HR solution for your business. At the end of this article, you'll have a clear-cut idea of what your company needs.
Important Key Features in HR Mobile Apps
The best HR apps should offer all of these key features:
One of the most basic HR duties is to manage employee's personal and work-related data. Such tasks used to involve papers, files, and cabinets – but now with an HR app, it's all up-to-date and accessible 24/7. While most apps have this basic function alone, PeopleX's HR mobile app takes it up a notch by creating an 'Intranet Directory' that:
Provides a mobile directory so that finding and connecting with people in your company is more efficient.
Search and connect with your employees through the employee directory.
Best of all, PeopleX's app has a 'DashBoard' view that's user-friendly and straight-forward. Here's where employees can have an overview of the overall leave statuses for a particular month, special announcements, and even birthdays!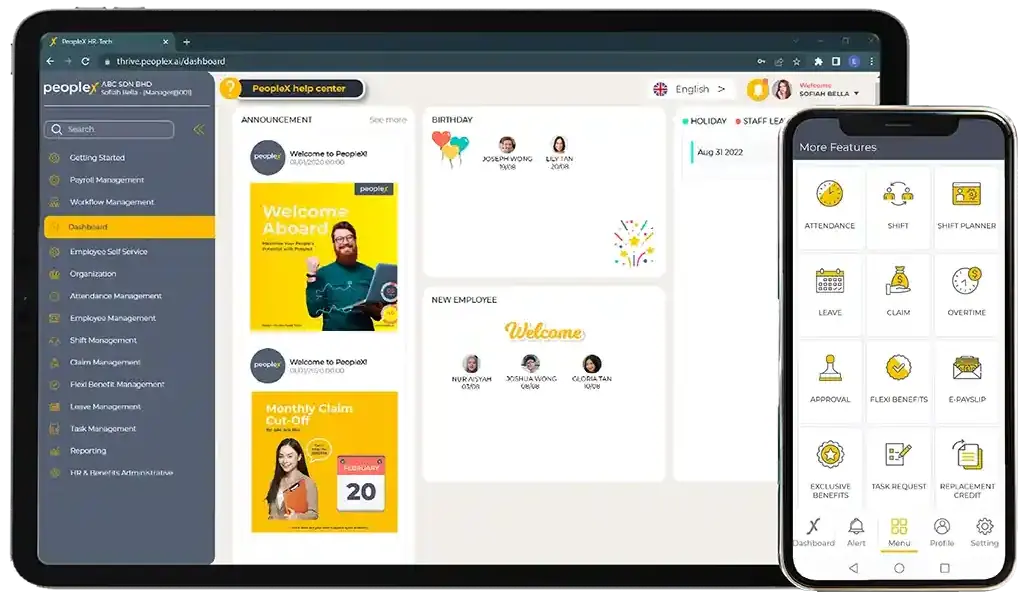 TIME & ATTENDANCE MANAGEMENT
While most apps are only able to log employee's attendance and working hours based on their own check-ins, PeopleX has actually enabled a few extra features:
Our exclusive check-in and check-out comes with geo location and geo fencing – a great convenience for both managers and employees themselves to keep note where they have been.
Managers can also view weekly and monthly timesheets of their team members.
ABSENCE & LEAVE MANAGEMENT
This is an important feature any HR-related apps must have. Absence & leave management features will help to deal with sick days and leaves automatically. PeopleX's app allows employees to enjoy the convenience of:
Applying for leaves via mobile app, without the need to fill in form manually
Since it's done via app, there's no need to knock on the boss or manager's door all the time just to submit leave applications!
Notifications and reminders of the leave application status, without checking with HR time to time.
Employees can also view their remaining leave balance – can plan holidays in advance!
View leave applications history anywhere and anytime.
CLAIM MANAGEMENT
One of the biggest headaches both employees and managers have to deal with is related to claim management. Therefore, apps with a clear-cut claiming system like PeopleX's will be helpful:
Attach photos of receipts with the phone to submit the claim immediately.
Notification and reminder for the claim status.
View claim history and limit
Employees can group their claims by either month, categories, or purposes (client entertainment fees, travel claims, etc). For example, employees can create a group of claims that falls under "CLIENT PHONE CALLS" and save it as a draft. And whenever they make calls to clients, they can add in more receipts. By the end of the month, they'll just need to submit the group of receipts all at once. Approving claims will be less hassle for managers too!
Also without the need to do things manually, employees don't have to spend the last few days of each month just sitting at their desks to compile receipts for claims! The final days of the month should be spent on closing more sales (to reach KPI or bonus requirement)!
TASKS REQUESTS
This is a feature not many apps include, as it expands outside of the traditional HR realm. This is where HR managers or team leaders can approve or disapprove certain requests immediately through the app itself. Here are some examples what this feature in PeopleX app can do:
Pre-approval for your business trip, time off or work from home request
Budget approval request for entertainment that linked to your E-Claim
Raise any general request and get official approval from your superior
Track various type of request in a proper manner
APPROVALS
Related to the above, not only that requests can be done via our HR app, but we also created a seamless 'Hierarchical Approval' function (which not many HR apps have it too) which you can use for:
Dynamic multi-level approval.
Easily sign off or reject on requests, as well as status tracking.
Ensure sensitive data is only accessed by authorized personnels.
BENEFIT MANAGEMENT
The best HR mobile apps should also include benefit management features. After all, it's what keeps the employees motivated! With our app's exclusive Flexi Benefits feature, it allows employers to allocate yearly benefit claim budgets to employees via the app. Best of all, employers can offer certain benefits to their employees – who also have the freedom to pick the benefits that meet their own needs/requirements. This will make life easier for you as a boss, at the same time creating better job satisfaction for the employees!
SECURITY
Be sure to investigate how the app protects your data. Since these systems are cloud-based, means your employee data (including personal information and financial data) will be stored online somewhere. Therefore, it's very important to look for an app that only offers the best of cybersecurity.
Our app offers the best of security as we're hosted on the world's top cloud infrastructure: Microsoft Azure Web Services. Microsoft Azure is a cloud platform that's trusted and used by 95% of Fortune 500 businesses. You and your staff can access the database anytime and anywhere worries of being targeted by hackers.
Best HR Mobile App for Your Business
As an award-winning solution provider, we have helped companies big and small to seamlessly keep their HR services ongoing despite the current 'lockdown' situation.
Starting from as low as only RM5 per user* you'll be able to have your own online HR system that's catered to you 24/7.
Regardless of the size of your business, a good HR mobile app is an investment worth making. When you're ready to take the next step, take advantage of the free trial offered and test drive for yourself.
Get your FREE trial by registering here. Let's connect soon!