With the change to Recovery Movement Control Order (RMCO), the economy may seem like it's slowly recovering. However, the reality is that COVID-19 has not gone away, and business will not be like it was before.
In fact, small and medium enterprises (SMEs) are the ones who got the biggest impact ever since the implementation of the movement control order (MCO) in March. According to the SME Association of Malaysia, only 37.8% of SMEs in Malaysia have sufficient capital to survive throughout the period. As for the other SMEs, they're struggling to bring in sales to sustain their business operation. Due to this, many employees lost their jobs. Since March, the number of people out of jobs went up to 50% as compared to a year ago (source: Labour Force Survey).
Therefore, SMEs should continue to seek ways to adapt to the new normal as things will never be the same again. With the new normal, we will see a world where businesses or processes can't depend on physical interactions anymore, due to social distancing. Which is why most businesses have started to adopt digital transformation.
What is digital transformation? It is an effort to rewire an existing business's operations to adopt the latest technologies in order to improve processes, strategies, and returns. Digital transformation has proven to help companies improve with a fraction of the usual cost (as discussed in one of our previous articles) and it is more applicable now than ever – to maintain 'social distancing' since end-to-end processes will be in the cloud.
Besides that, while most SMEs have their own dedicated admin to handle payroll and all the paperwork, you should be 'transforming' these employees to focus more on revenue-generating roles to grow your company financially. With PeopleX's services, all of your payroll and related paperwork will be taken care of.
Let's dive deeper into how PeopleX can help your business to embrace the 'new normal' in a functional and effective manner, through digital transformation
Adherence to RMCO guidelines
Now that the CMCO is replaced by RMCO, most essential related companies are gradually allowing their employees to go back to work on rotation (per the government's rules). Which means most of the employees are still going to work remotely by rotation. On top of that, the National Security Council of Malaysia mentioned that "Workers must only be travelling from home to the company premises… Companies must set a system of working from home for those not involved in critical production."
This creates a new problem for SMEs that didn't implement any policy or tools for remote working. How do they start?
One of the best apps for such purpose is PeopleX's bespoke HR app. It's engineered with an attendance management function that allows managers to view daily, weekly and monthly timesheets, as well as working hours.
Businesses are also required to make sure that workers' temperature is taken at all entry points and recorded. How can your business save time and also adhere to the guideline?
With our HR app's latest feature update, manual pen and paper recording processes will be eliminated. Via the app, employees can now record their own temperature every morning during attendance check-ins!
For as low as RM5 per month* you will save your employees' time and gain access to all info within an app on your phone!
One-Stop Processing
Digital transformation will require shifting from offline to an online environment. This will affect many processes such as managing claims, leave administration, payroll and approvals that will require software to manage.
One of the biggest convenience of such a transformation is cutting down the time needed for face-to-face approvals. This comes especially handy in a company with hierarchical workflow. Instead of going through the layers of hierarchy just to get approval for a simple task (which sometimes takes days), everything can be done via a single tap on the app!
Planning to get software for each and every processes separately? It's not a wise move, as not only that it will cost you a lot, but it will also pose higher cybersecurity risk.
It also creates a myriad of issues when working with different software programmes as they do not necessarily not integrate with each other, making it even more difficult and time-consuming to manage.
With PeopleX's one-stop app, you'll have access to all the essential processes you need:
Secure Cloud Platform
Last but not least, one of the biggest concern for digital transformation
Your company's data should be stored in a secured cloud platform. If your business does not have a secured cloud platform, problems like these will arise:
Missing/erased data
Cybersecurity risk
Limited control and flexibility
Possible downtime
And much more
Therefore, it is much safer to use only the top cloud platforms. However, many businesses won't be able to afford world-class platforms such as Microsoft Azure Web Services (which costs around USD14K a year).
Good news though, we host all of our client's data on Microsoft Azure Web Services. Which means, we're paying the hefty fee of sustaining and keeping your data safe on the world's top cloud infrastructure. All you need to pay is as low as RM5 per month*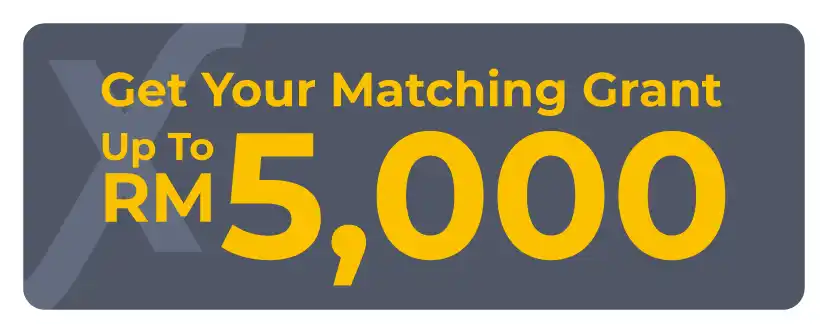 Another reason to choose PeopleX, is because we're also here to support you with grant (up to RM5,000)*.
All you have to do is subscribe and we'll match with a 50% discount*.
*Terms and conditions apply, please contact us for more info!
In the absence of a vaccine for COVID-19, there is no guarantee that society will be back the way it has been before. Though the outlook is not entirely bright, SMEs can still persevere against the adversities by leveraging on digital transformation.
Let us help you with the process of digital transformation so that you can focus more effort, attention, and time on growing your business revenue. It's time to embrace the 'new normal' with confidence instead of fear 💪
Claim a FREE trial today!