Payroll is one of the most crucial processes in any business. Unfortunately, it's also a costly process. While some businesses continue to manage their payroll process in-house, many SMEs have turned to outsourcing payroll to cut costs effectively.
Although most sectors are finally allowed to open during the conditional Movement Control Order (MCO), you should understand that things are also going to get very tough from hereon – especially financially. This is because the economy will take time to recover. Also, with the pandemic still on-going, clientele might be scarce.
With this in mind, it's important to prioritize your capital on supporting your business through these tough times of recovery. Hence, many SMEs cut costs and save money by outsourcing the payroll services. Not only that it cut costs, it also helped SMEs to have more time and attention to focus on revenue growth strategies.
Skeptical? This article's analysis and comparison between in-house and outsourcing payroll will help you understand better.
Evaluating your payroll processing system
When it comes to managing payroll, SMEs should take these into consideration:
Paid leaves (medical, compassionate, etc.)
Unpaid leaves
Compensation for quarantined & non-quarantined employees
Compensation for exempt & non-exempt employees
Salary/wage adjustments
Full-time vs. part-time employees
Furloughed employees
Terminated employees (voluntary or involuntary)
Benefits administration
Taxes relating to withholding, payment, and reporting
Finalized paychecks
Last but not least, a dedicated personnel just to process payroll (to ensure minimal to zero mistake)
And more.
With all of these to be taken into consideration, let's focus on evaluating in-house vs. outsource payroll.
In-house
If you have your own in-house payroll team, it means your own employees (or yourselves) are handling all the payroll responsibilities. This includes salary/wage calculations; paycheck deductions; benefits administration; payroll tax withholding, remittance, reporting; and many more administration duties.
However, given the unpredictable economy, have you evaluated your in-house payroll's effectiveness? Here's a checklist to help you evaluate:
Competency of in-house payroll: Can they skillfully navigate the changes brought on by COVID-19?
Is your remote payroll team responding timely to inquiries and issues raised by other employees?
How much did it cost to switch your team to do payroll remotely? Any additional training charges needed?
Most importantly, what does your cost-benefit analysis tell you? Is it a wise move to keep all of your payroll duties in-house?
To help you decide, let's analyze why it is more beneficial for SMEs to outsource payroll processes.
Outsource
By outsourcing your payroll system, some or all payroll duties will be entrusted to an external service provider. Here are some reasons why outsourcing a payroll system for SMEs will be advantageous.
Save on time and cost: When it comes to running any business, time is literally money. In-house payroll can be time-consuming and require full attention to details. Imagine the time that could potentially bring revenue, will be instead spent on doing time-consuming duties such as:
Printing, signing, and distributing payslips
Manually generate reports for in-house and accountant use
Preparing and remitting payroll taxes
Answering queries one by one
Keeping up with the latest regulations
And more…
By outsourcing your payroll, everything will be covered and taken off your hands. You can focus to grow your core business.
Better data security: In-house payroll comes with high risks, such as identity theft, embezzlement, or even leakage of sensitive data. Even if you are confident that your payroll system is safe, you should also be cautious about the security of the server. Professional payroll providers will protect your data by using highly secured cloud-based servers. Also, with reputable payroll providers, you don't have to worry about tech glitches and errors anymore.
Guaranteed government compliance: Potential costs of payroll mistakes are very high. With the uncertainty of today's economic status, mistakes are highly unavoidable if you're not familiar with regulation updates. Even a single mistake could lead to audits and serious penalties.
For example, did you know that it is illegal for companies to request employees to use their annual leaves if they're tested positive for COVID-19? Employees who are asked to do so are allowed to take legal action against their employers!
Constantly trying to stay on top of all of the latest changes and updates will take away your focus on growing your business as well. Therefore, it's best to leave it to the professionals who deal with the latest regulations on a daily basis.
By entrusting your payroll responsibilities to an experienced payroll providers, it will ensure that your payroll is compliant and always up to date with the latest rules & regulations.
Hassle-free: SMEs don't need to worry about the unexpected situations arising when it comes to payroll too. For example, instead of worrying about the payroll manager's sudden resignation or sabbatical leave, SMEs who outsourced their payroll process will always have someone dedicated to finish the job.
We at PeopleX, will ensure that your company's payroll processes will never be left out or delayed, as we are committed to provide you with the best payroll service.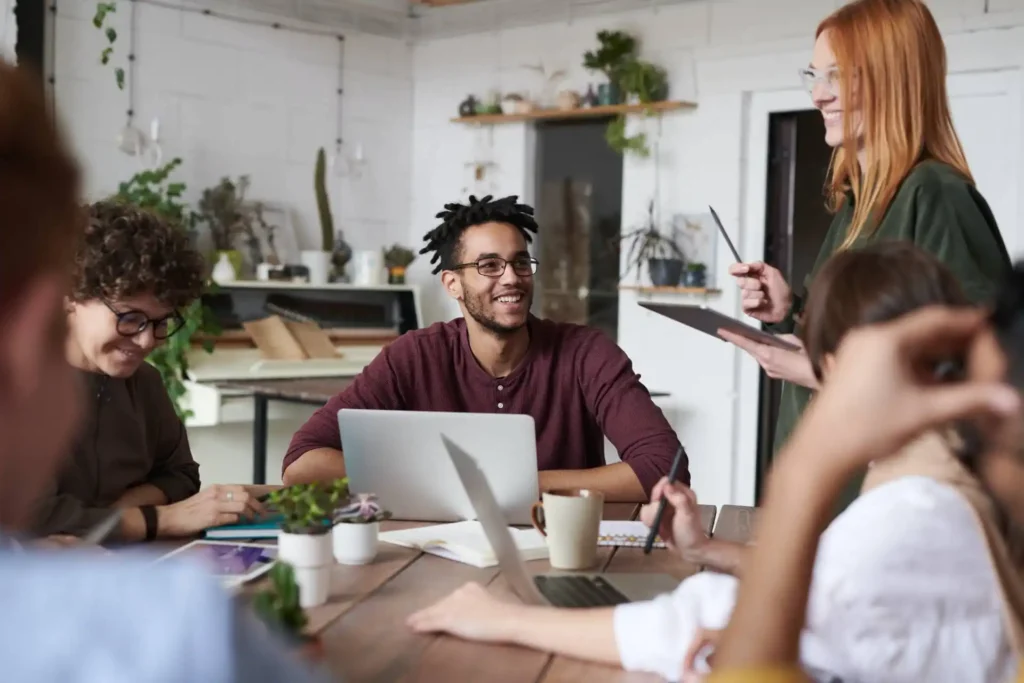 Outsourcing the right solution providers
This is a major step for SMEs seeking to stay afloat and make the most out of the COVID-19 situation. Therefore, if you're going to outsource, make sure you choose professionals that prevent payroll mistakes, allow you access to all of your payroll information, and deliver cost-effective solutions.
In terms of professionalism and cost-effectiveness, we proudly introduce PeopleX's HR solution and service. From only RM50 per month, you'll have access to complete payroll services that's also integrated with PeopleX HR App. (Learn how the app can help your business grow during COVID-19 here).
Here's in-house vs. outsource in comparison: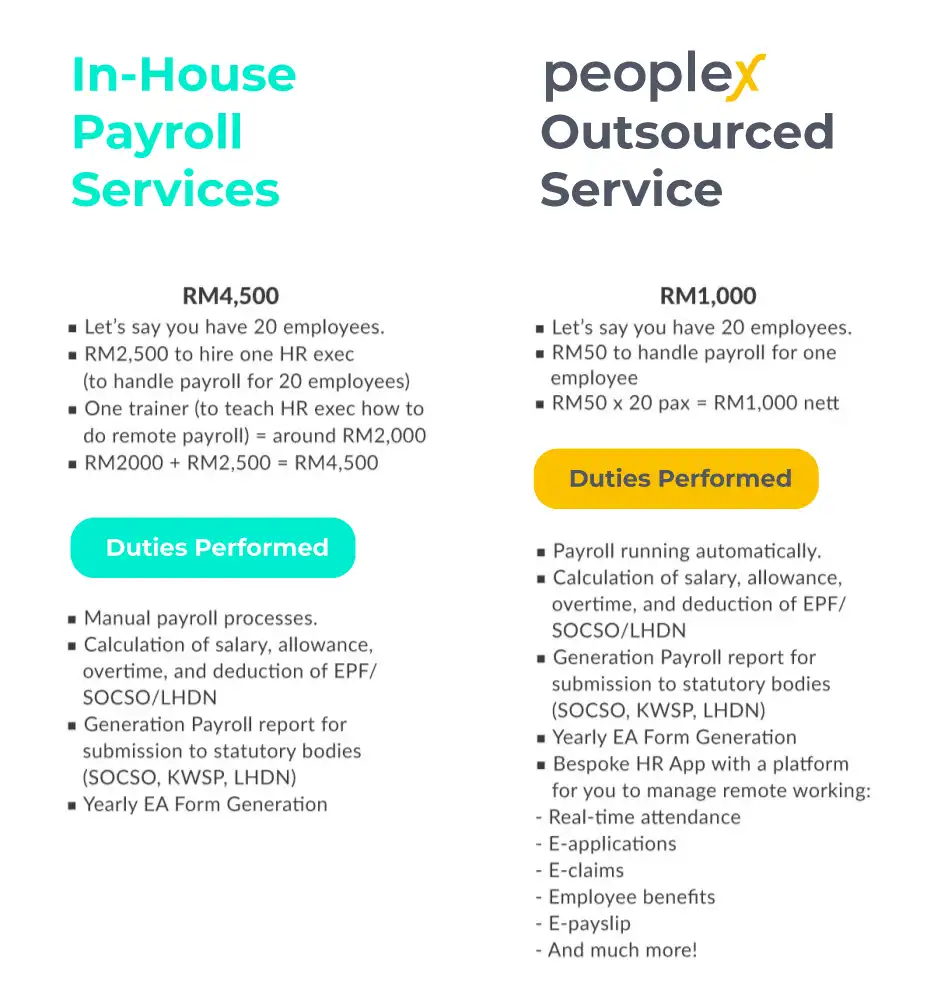 One of the biggest reasons why SMEs aren't growing, is because most of their time and effort are spent on managing admin tasks. Instead, your employee's precious time should be spent on tasks that benefit the company financially. Which is why, many SMEs came to us to help them manage their payroll so that their 'admin' staff can finally have the time to focus on what matters most -> revenue growth.
Don't be mistaken though, we're not here to replace your HR team . We're simply here to complement them. With our help in managing the nitty gritty areas of payroll, your HR team can finally focus on more important tasks such as performance management, training, development, onboarding, reinforcing the values of the company, sustaining employee morale, and many more.
Why Outsource?
Many companies would subscribe to a software instead of outsourcing. Here are reason why outsourcing will be a better choice:
✔️ We ensure your payroll is compliant and always up to date with the latest rules & regulations.​
✔️ No worries about tech glitches and errors. ​
✔️ Complicated problems can be solved immediately by our professionals.​
✔️ No need to handle everything by yourself (software will still require your attention and time).​
✔️ Cost efficient vs software subscriptions/purchase + hiring dedicated person for payroll.
Moreover, PeopleX is an award-winning company that provides professional expertise in payroll and HR services for companies big and small. As you can see from the table above, we also offer more than 'just' payroll administration (unlike most local payroll providers). Our services also come with the bespoke HR App that allows you to manage your business seamlessly even during this period.