Payroll management is one of the most crucial and costly aspect of running a business. Efficiently and accurately managing employee compensation is essential for business success. While some businesses continue to manage their payroll process in-house, many small and medium-sized enterprises (SMEs) have turned to outsourcing payroll as a cost-cutting measure and focus on revenue growth strategies.
Let's delve into an analysis and comparison of in-house payroll management and payroll outsourcing to help you understand better which will suits your business needs.
In-House Payroll Management
If you have an in-house payroll team, it means that your own employees or yourselves are responsible for handling all payroll-related tasks. It encompasses various activities that ensure employees are paid accurately and timely, along with compliance with relevant laws and regulations. The scope of payroll typically includes:
Salary/Wage calculations, bonuses, commissions, overtime and etc.
Paycheck deductions for applicable taxes, various statutory contributions, unpaid leave and etc.
Benefits administration such as leaves and other entitlements.
Expenses claim
Preparing, filing and submitting various tax and statutory contributions to the relevant parties
Compliance with latest Employment Laws and Regulations
Proper recordkeeping as per requirement
Payroll Processing according to the pay schedule
Reporting and Analysis
Addressing employee inquiries, providing support on payroll-related matters.
Considering the ever-changing business landscape, it is crucial to assess the effectiveness of your in-house payroll operations. Have you evaluated your in-house payroll's effectiveness? Here's a checklist to help you evaluate:
Competency of in-house payroll: Can your team adeptly navigate the dynamic nature of payroll regulations and requirements? Are they up to date with the latest industry practices and legal compliance?
Responsiveness of the payroll team: Are your payroll team members promptly addressing inquiries and issues raised by other employees? Efficient communication and timely support are essential for maintaining smooth payroll processes.
Cost implications of in-house payroll: What are the costs associated with maintaining an in-house payroll team? Consider salaries, benefits, training, software, and infrastructure expenses. Assess whether these costs align with the value and benefits you receive from managing payroll internally.
Cost-benefit analysis: Evaluate the cost-benefit ratio of keeping all payroll duties in-house. Compare the expenses and resources involved in managing payroll internally with the potential benefits of outsourcing payroll services.
To aid your decision-making process, let's analyze the benefits of outsourcing payroll processes for SMEs. This analysis will help you understand why many businesses find it advantageous to delegate their payroll responsibilities to external service providers.
Payroll Outsourcing
Instead of managing payroll functions in-house, businesses opt to outsource these activities to a specialized company that specializes in payroll processing and administration. By outsourcing your payroll, all your payroll duties will be entrusted to an external service provider. Here are some reasons why outsourcing a payroll system for SMEs will be advantageous.
Save on time and cost
When it comes to running any business, time is literally money. In-house payroll can be time-consuming and require full attention to details. Imagine the time that could potentially bring revenue, will be instead spent on doing time-consuming manual tasks such as printing payslips, generating reports, answering employee queries individually, keeping up with the latest regulations and many more.
Outsourcing payroll frees up valuable time that can be better utilized for revenue-generating activities and you can focus to grow your core business.
Better data security
In-house payroll comes with high risks, such as identity theft, embezzlement, or even leakage of sensitive data. Even if you are confident that your payroll system is safe, you should also be cautious about the security of the server. Professional payroll providers employ advanced technologies, secure servers, encryption, and backup systems to protect sensitive payroll information. Outsourcing payroll ensures data confidentiality and minimizes the risk of data breaches.
Expertise and compliance
Constantly trying to stay on top of all of the latest changes and updates will take away your focus on growing your business as well. Therefore, it's best to leave it to the professionals who deal with the latest regulations on a daily basis. They have the necessary expertise and systems in place to ensure accurate and compliant payroll processing, reducing the risk of errors and penalties.
By entrusting your payroll responsibilities to an experienced payroll providers, it will ensure that your payroll is compliant and always up to date with the latest rules & regulations.
Hassle-free
SMEs don't need to worry about the unexpected situations arising when it comes to payroll too. For example, instead of worrying about the payroll manager's sudden resignation or sabbatical leave, SMEs who outsourced their payroll process will always have someone dedicated to finish the job.
Outsourcing payroll allows for easy scalability as your business grows or changes. Service providers can accommodate fluctuating employee numbers, handle payroll for multiple locations, and adapt to evolving payroll requirements.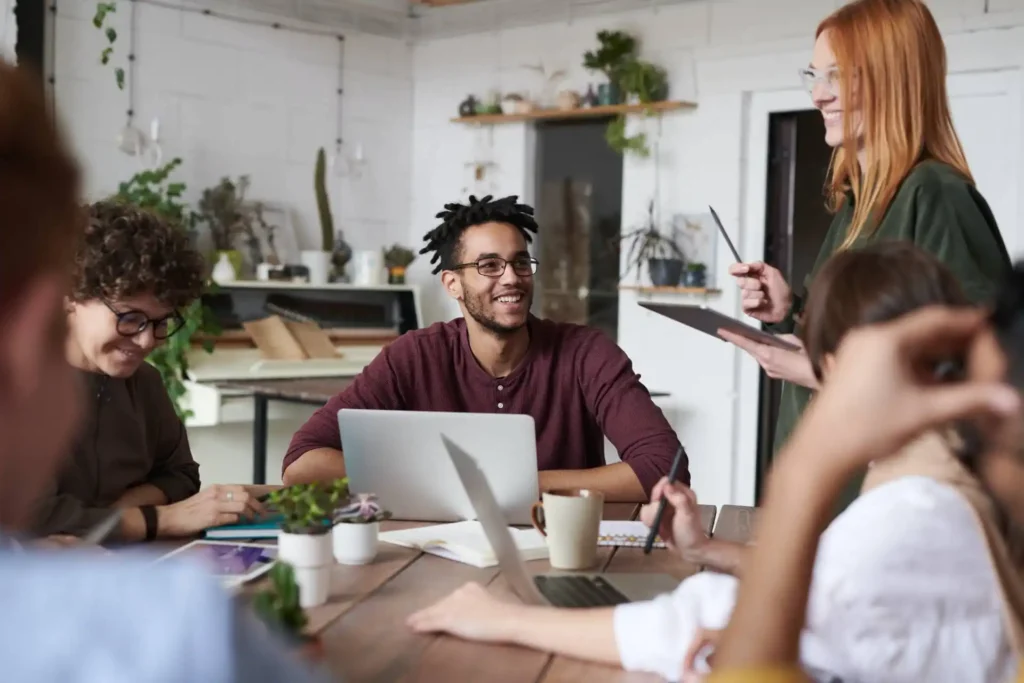 Outsourcing The Right Solution Provider
Outsourcing payroll is a crucial decision for SMEs looking to navigate through the challenges posed by the current business landscape. It is essential to select a reliable service provider that can prevent payroll mistakes, provide access to comprehensive payroll information, and offer cost-effective solutions.
When considering professionalism and cost-effectiveness, we are proud to introduce PeopleX HR solution and service. From monthly subscription of RM48/employee (Normal price at RM80), you'll have access to complete payroll services that's also integrated with PeopleX HR App.
Don't be mistaken though, we're not here to replace your HR team . We're simply here to complement them. With our help in managing the nitty gritty areas of payroll, your HR team can finally focus on more important tasks such as performance management, training, development, onboarding, reinforcing the values of the company, sustaining employee morale, and many more.
Here's in-house vs. outsource in comparison: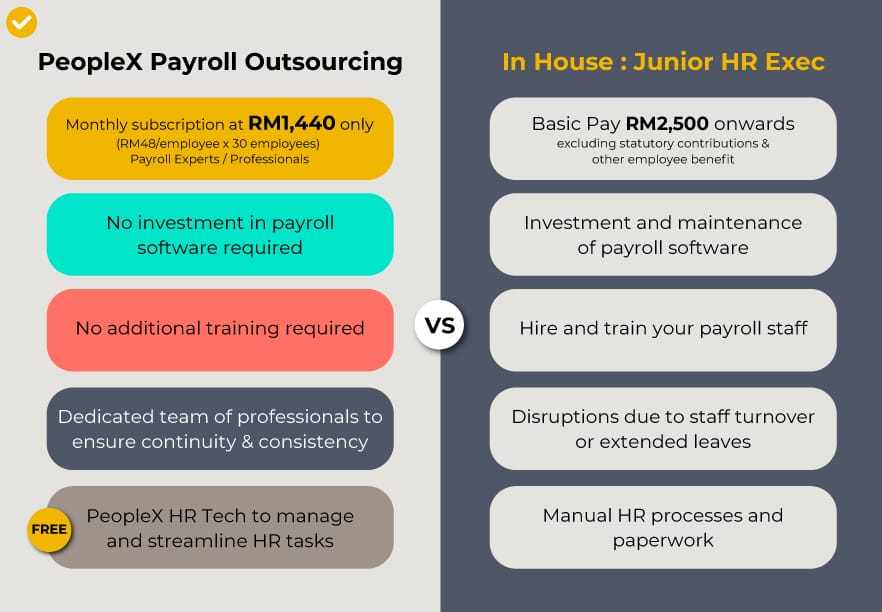 Why Outsource is better than subscribing a payroll software ?
Many companies opt to subscribe to payroll software instead of outsourcing, but there are several reasons why outsourcing can be a better choice:
✔️ We ensure your payroll remains compliant with the latest rules and regulations.
✔️ No worries about technical glitches or errors in your payroll system. ​
✔️ Complicated payroll issues can be solved immediately by our professionals.​
✔️ Free up your time and attention from handling payroll tasks yourself or managing payroll software.
✔️ Cost efficient vs expenses associated with purchasing or subscribing to payroll software and hiring a dedicated payroll staff.
At PeopleX, we take pride in being recognized for our exceptional payroll and HR expertise. Whether you're a large corporation or a small business, we offer solutions to streamline your operations and drive success. But that's not all – we go beyond traditional payroll administration. With our comprehensive services, you gain access to our comprehensive PeopleX HR App, empowering you to seamlessly manage your business. Even in challenging times, our cutting-edge technology ensures you remain in control.
Don't settle for average payroll providers. Choose PeopleX and unlock a world of excellence in payroll and HR services. Join our prestigious clientele and experience the difference firsthand.
Elevate your business with PeopleX today and let us propel you towards unparalleled success.